HPVOoO train project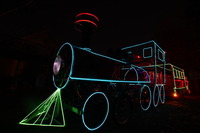 For the 2010 Ottawa Help Santa Toy Parade members of HPVOoO took on a project to build a lit wireframe train.
This time, our idea came when we were perfectly sober drinking vietnamese tea (compared to last time we were drawing on napkins in the pub and came up with the original idea for the organ trailer).
The parade was November 20th, 2010.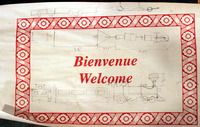 We started with doodles on a placemat at our current weekly hangout, and then graduated to a collaborative blog to continue with the idea flow.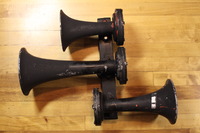 Through contacts in the local electric vehicle and railway enthusiasts groups, a real diesel air horn was acquired for the job.

The base vehicle for the steam locomotive is RGB's Greenspeed GTVs6 tandem convertible recumbent tricycle towing the HPVOoO organ trailer dressed up as a passenger car and a kid's wagon that served as a caboose.

The ElectroLuminescent wire came from That's Cool Wire. Here's a description of the wiring.

Here are some photos from the build...

And the final results: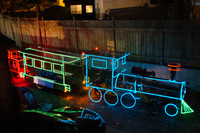 Simon Leadlay
Excursion to Bell's Corners
Orleans parade:
Out for pho
Saturday June 4th, 2011: Capital Velo Fest
Carivibe
Francojeunesse school picnic
MacDonald Gardens street party

...and a relevant recent Rick Mercer Report...
---
(C) 2010 Richard Guy Briggs Web Page last updated by Richard Guy Briggs Thu Aug 18 23:57:47 EDT 2016